Awesome passion of Kamil Wrzosek
About creating a homemade museum and fulfilling dreams
Kamil Wrzosek has long since gone "you" with the aviation industry. The hero of our interview is not only an aviation industry enthusiast and LOT fan, but also an aviation photographer (a.k.a. spotter) whose work has long been featured on lot.com. He has been collecting aviation-related items for 11 years, and a few months ago he shared with us his new project: a home aviation museum.
About the beginnings of a passion for aviation
Let's start from the beginning. Kamil, when did your passion for aviation begin? Do you remember the moment when you thought "this is it"?
My passion for aviation began with my first flight in an airplane. It was in 2006, I was 6 years old at the time. We were flying with my grandparents on vacation to Greece, and to this day I remember my excitement when the plane took off from the runway for the first time. I especially remember the very moment of the machine's ascent, and the feeling when the buildings and streets became smaller and smaller. At the time I still didn't fully understand how it all worked - flying high above the ground and moving at dizzying speeds. However, I know that it was the altitude that fascinated me the most. And of course - the views outside the window!
And if you had to answer - why LOT? Where did your fondness for exactly our airline come from?
LOT is an airline with more than 90 years of tradition, wonderful cabin crew and professional pilots. My love for it began in 2011, when I boarded our national carrier for the first time. I remember it was an evening flight from Warsaw to Paris, on board Embraer. I was accompanied on the trip by a smiling and caring crew, from whom I was given coloring books and crayons. That was the moment I fell in love with LOT flights - I always feel like at home!
Fulfilling dreams and the longest flight ever
You certainly know our fleet inside out. Which aircraft is your favorite and why?
From our fleet, I like Embraer jets the most - they are great planes. Not only do they have extremely comfortable, wide seats, but also a comfortable 2:2 seat configuration, that is, two rows of seats with two seats in each - by the window and by the aisle. Since they are not large machines, there is always a very cozy atmosphere during the flight.
Do you remember where you took your longest flight ever? Is there any place you would like to fly to now?
My longest flight in life was between Warsaw and Los Angeles and lasted more than 12 hours. I was flying a Dreamliner at the time. I can't say that the flight was long for me - I spent more than half of the route with my eyes fixed on the glass, watching the magnificent, ever-changing views. Currently, my dream is to fly to Australia, more specifically to Sydney. Australia has always, to some degree, fascinated me. I hope that someday I will have the opportunity to fly there and see for myself the country of kangaroos, pearls and sapphires.
What is your biggest dream related to the aviation industry? Or is there something you've already accomplished?
Ever since I can remember, my dream has been to work in the airline industry, specifically at LOT. The combination of work and passion is something I wish for everyone - how great it is to do what you love! I made my dream come true this April, joining the wonderful LOT family. Eleven years after my first trip, with a smile on my lips and incredibly proud of myself, I stood shoulder to shoulder with a LOT crane, holding a company badge in my hand.
Private aviation museum or airplane house?
Your profile on Instagram

(opens in a new tab)

(@kwrzosek_photography) features photos of the home aviation museum you designed. Tell us about where you got the idea for it, how it was created, and how long it took you to build it?
Construction of the museum began in the spring of 2013. Originally, it was to be a simple tree house, hence the completely "un-airplane" shape of the windows. However, a few months later, I came up with the idea of transforming the interior of the house into a LOT passenger cabin (as realistically as possible, of course). I started searching for all the parts and items I needed for the construction, on many auctions and websites. The whole process required a great deal of patience and determination on my part. In retrospect, however, I know that it was really worth it! Since recently, I have also been the happy owner of original seats from a Boeing 737, which have become my favorite design element. In addition, in one of the rooms, I have made my own private aviation corner with a display case containing all the LOT-related gadgets and memorabilia. Of course, I am constantly expanding my collection!
What are the most valuable aviation gadgets you own? Where did they come from in your collection?
In fact, I have a lot of gadgets that are important to me. Each of them has a story, and I feel a certain emotional connection with each one. For example, pin badges, depicting miniature LOT posters from years past, are very valuable to me. I managed to buy most of these items through various websites and auctions. It wasn't always easy - some of them are real gems that are hard to find anywhere!
Do you have any other interests besides aviation?
In addition to aviation, I am also interested in photography. In fact, I combine these two passions - I photograph airplanes and the views from the window while traveling. It's not uncommon for me to have more photos of the flight itself than of my entire stay in a given place!
In your spare time you are a photographer. Tell us about your favorite spotting session. Is there an aircraft you'd like to photograph, but haven't had the opportunity to do so yet?
It was February 2021. There was a blizzard in Warsaw, one of the real kind. One of the photos I had been planning for a long time at the time was a shot of a Dreamliner landing in the midst of a snowstorm. I remember that I got very cold and wet that day - the weather conditions were extreme. Nevertheless, I managed. The resulting photograph is one of my favorites to this day - it was later awarded the title of "Photo of the Year in 2021" by the New Warsaw portal (Nowa Warszawa), and throughout February 2022 it could be seen at an exhibition at the Warsaw Breweries (Browary Warszawskie)
Check out the gallery of Kamil's collection!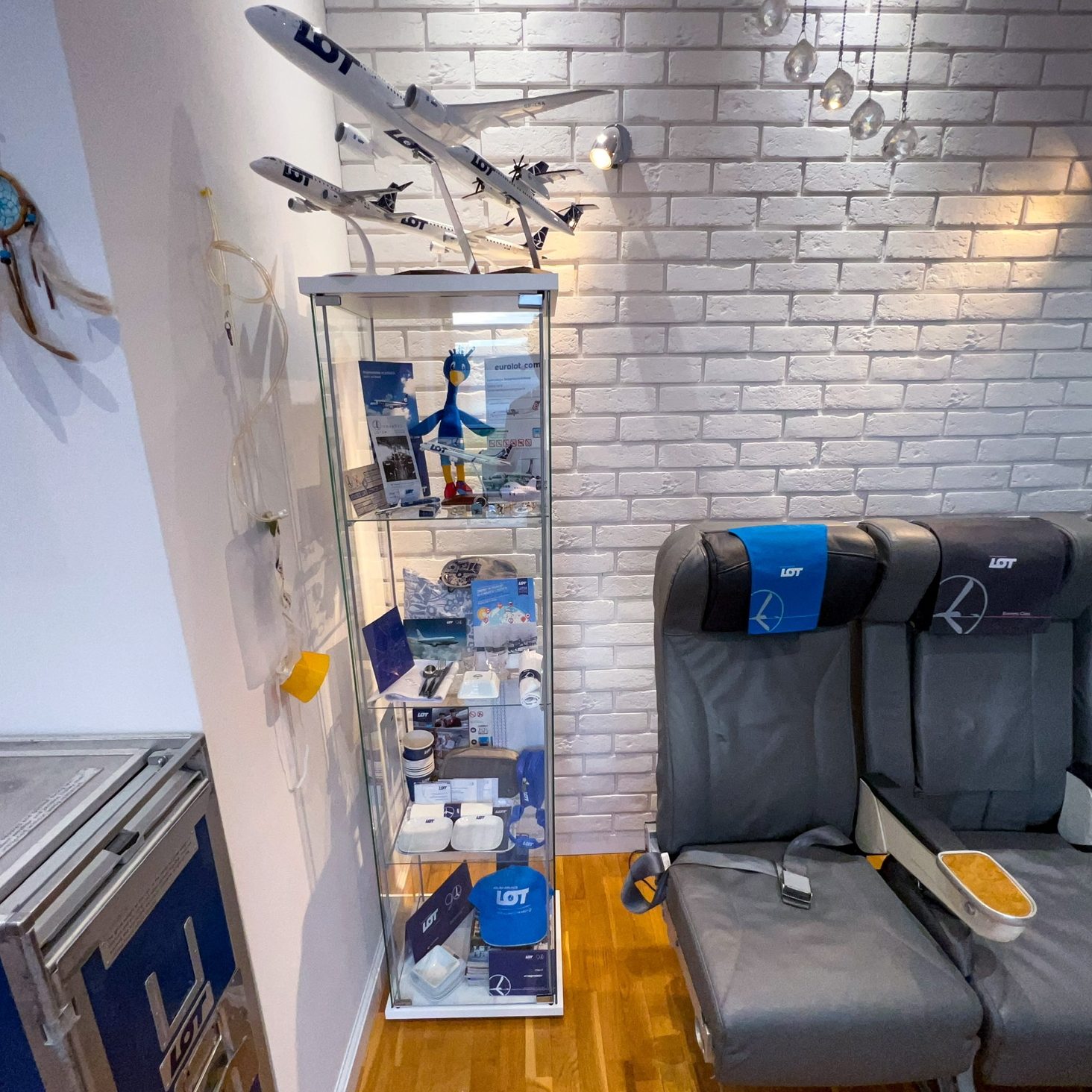 Are you an aviation enthusiast and LOT fan? Do you collect aviation gadgets? Add the hashtag #flyLOT on instagram and show us your collection!